MINI
MOTORISED

SATELLITE SYSTEMS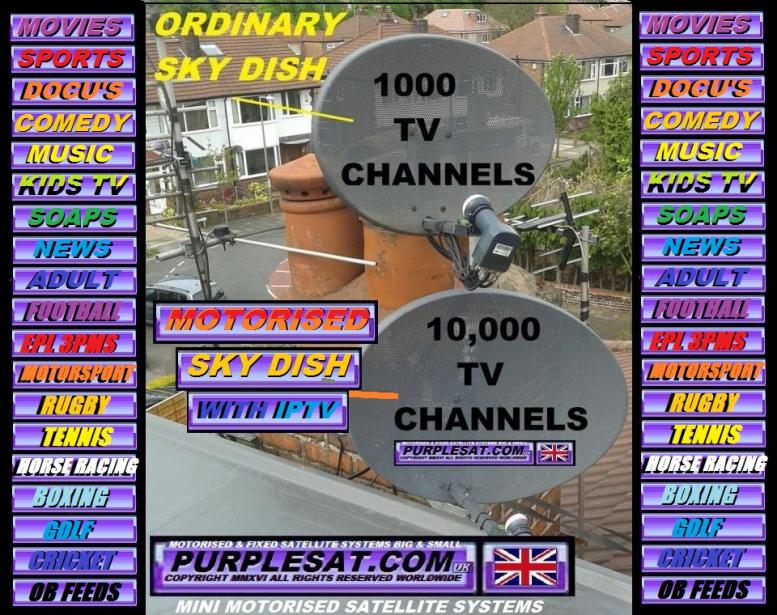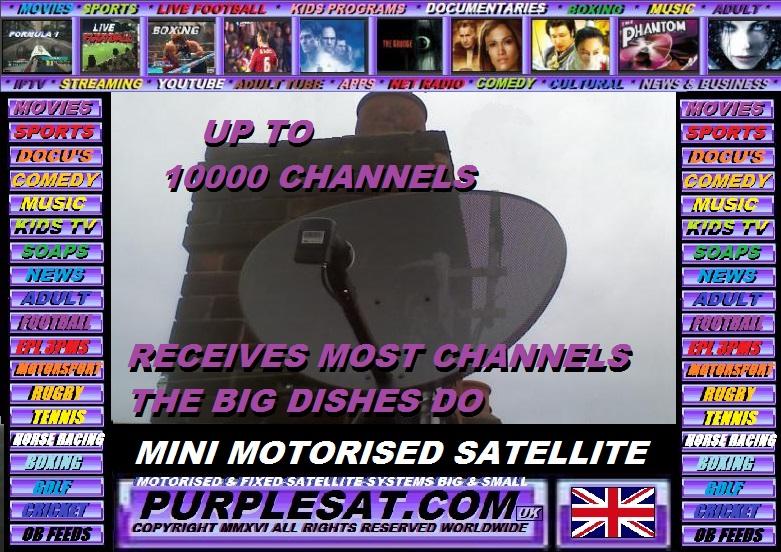 MOTORISED SKY ZONE 2 DISH- 57e+ to 58w+
With custom chimney mount & lashing kit.
This Zone 2 Motorised Sky dish acheived very good results and picks up nearly 40 satellites from .... 57e 53e 52.5e 45e 42e 39e 36e 33e 28.2e 23.5e 19.2e 16e 13e 10e 9e 7e 4.8e 3e 0.8w/1w 5w 8w 12.5w 15w 18w 22w 24.5w 27.5w 30w 34.5w 37.5w 43w 45w 58w & easily 5000 - 10,000 channels with amazingly good reception due to [noise] blocking by trees. In front of thge dish is a tall wall of trees one would expect would cause problems- after a good survey & the chimney was chosen as the most suitable installation site- the tall trees were just cleared- becaiuse of that the trees then act as a block for city interference increasing signal quality pretty much all over the arc for he dish size & laititude (S Manchester) as a result 15.8e (Tring) & 4.8e (Viasat SD) were quite acceptable with some bad weather margin.
Aesthetically, the dish just looks like another Z1 Sky dish.. except this one can [quietly] move from satellite to satellite - between 30- 40 satelltes and recieve between 5000- 10,000 channels.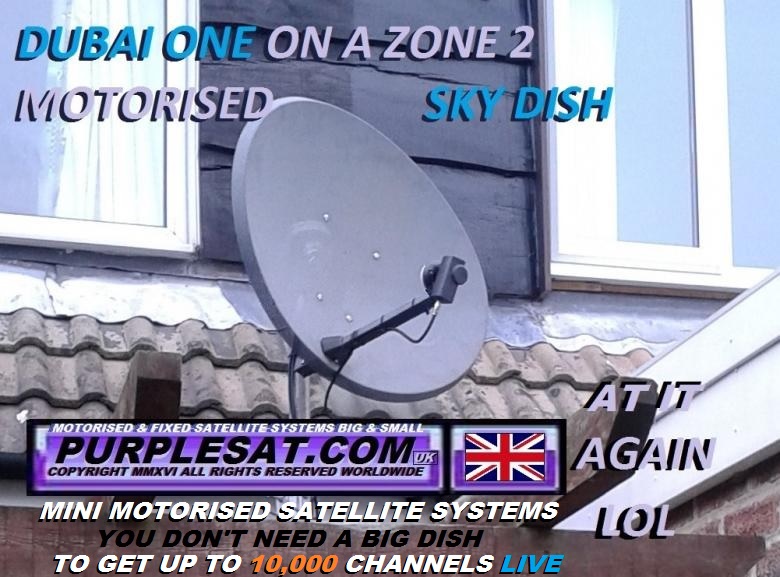 ANOTHER PURPLESAT MINI MOTORISED SATELLITE SYSTEM


This

Purplesat Mini Motorised Satellite System

hidden away on a pegola at the rear of their property routinely receives channels & Movies like Dubai One frpom the Middle East (it's all in English with movies etc.) that most installers would insist can't be received on such a small dish in the UK - it wouldn't matter as this little dish can receive up to 10,000 LIVE high bit rate MOVIES SPORTS DOCU TV KIDS TV MUSIC COMEDY ADULT CULTURE etc.. channels from satellite around the UK & the world - fantastic quality & without clogging up your internetr plus the receivrer can receive virtually unlimited IPTV channels & streams/ pause/ record live tv multi channel live tv & record off the internet etc,,.

MINI

MOTORISED

SATELLITE SYSTEMS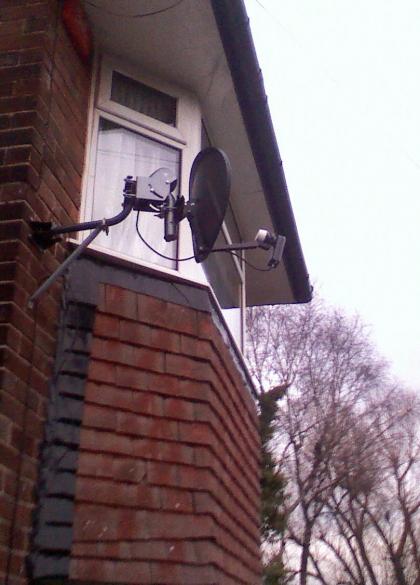 ANOTHER MOTORISED 54Cm Sky DISH RECEIVING 30-40 SATELLITES FROM 53e to 45w
Although this is installed at just above first floor level (approx 3.5m off the ground) & in one of the largest cities in the UK [Manchester South] this motorised Sky dish receives 30- 40 satellites from an amazing 53e to 45w & 5-10,000 channels [many keen satellite folk don't get that massive arc].
Using a sky dish means you will drop a few weaker satellites such as Arabsat / BADR4 @ 26e, 7w, & 16e, but otherwise most satellites are perfectly receivable & some off orbit satellites are easier due to the deep beam depth of a sky dish. Some of the FREE MOVIES on 26e are lost as are some football on 15.8e requiring a minimum of 80cm+ but if that is not a concern this makes an ideal choice & is very low on impact looking just like any of the millions of sky dishes. It also has much lower strain in gales on the dish, motor & brackets & the sky dish is rated to 120kh functionality & 220kmh survival- quite amazing figures for long life.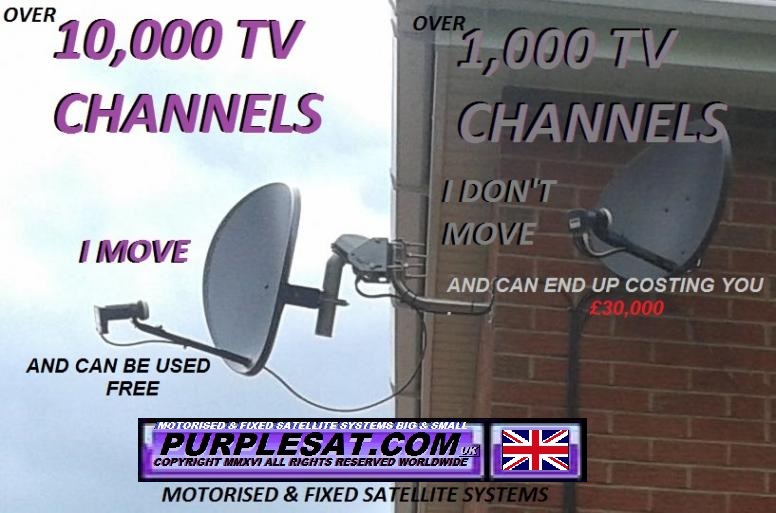 MINI MOTORISED SATELLITE SYSTEMS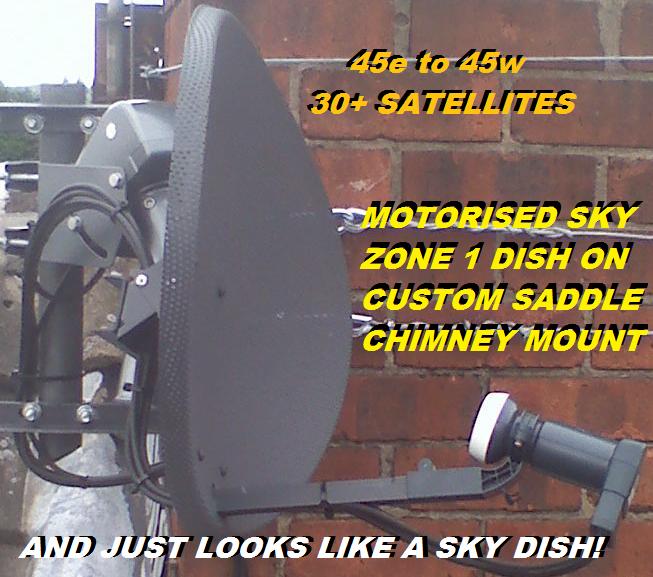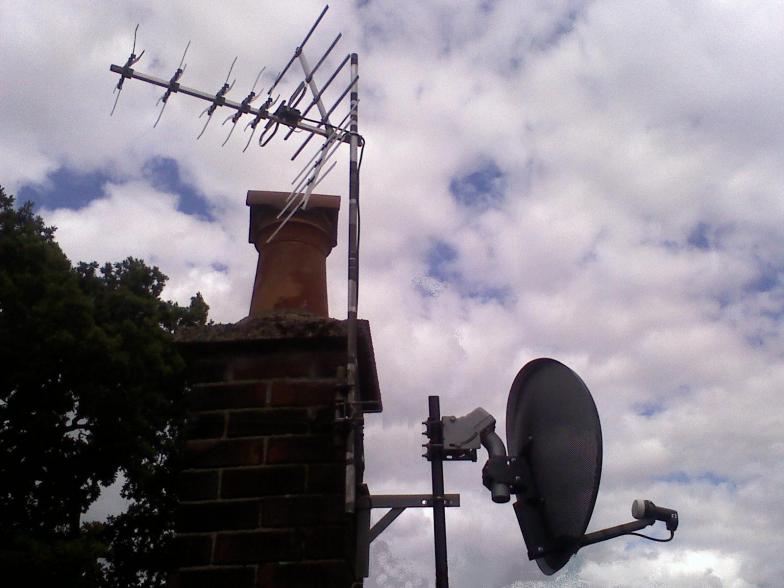 Discrete ...... Motorised MINI DISH*
Looks just like a Sky dish but moves like a motorised dish
and picks up nearly 40 satellites from .... 57e 53e 52.5e 45e 42e 39e 36e 33e 28.2e 23.5e 19.2e 16e 13e 10e 9e 7e 4.8e 3e 0.8w/1w 5w 8w 12.5w 15w 18w 22w 24.5w 27.5w 30w 34.5w 37.5w 43w 45w 58w & easily 5000+ channels with amazingly good reception
using the high performance LNB and professional adaptation techniques.
It also does not require an expensive motor or over engineered brackets & does not put undue stress on the building. Because of its' small size it is also ideal for very exposed positions and allows for the highest locations without special planning permission.
It has almost zero impact regarding it's looking just like another Sky dish.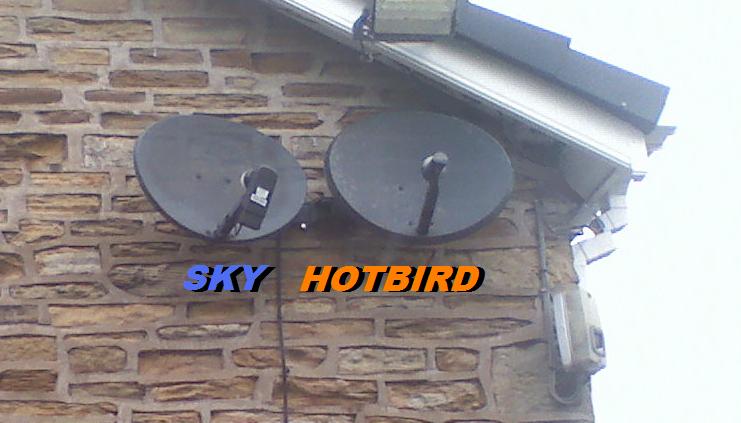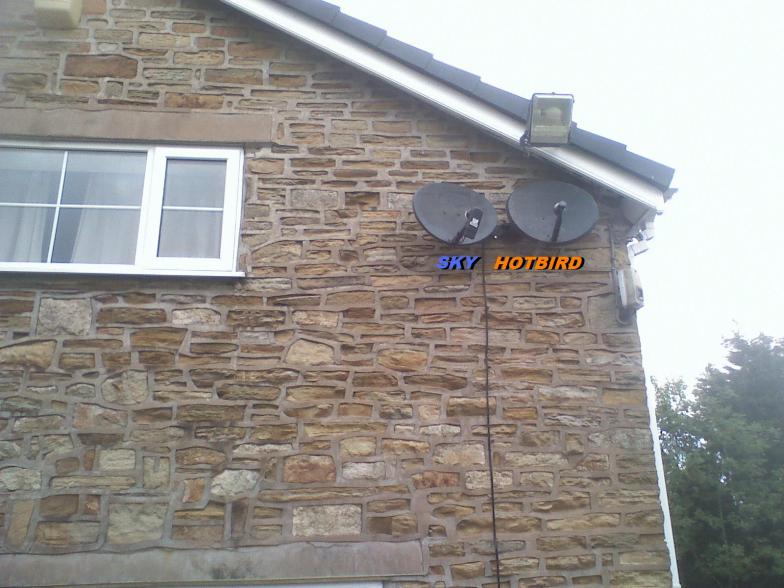 2 neat fixed Sky dishes for Freesat/Sky on one and Hotbird on another via a quality automatic diseqc switch

MEDIUM MOTORISED SATELLITE SYSTEMS [70CM TO 1.1M]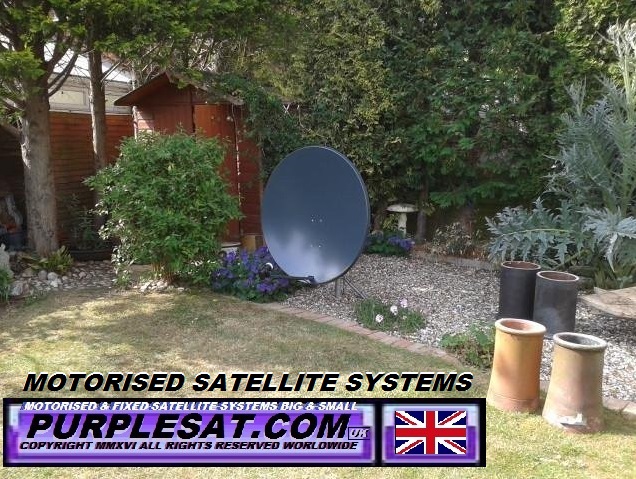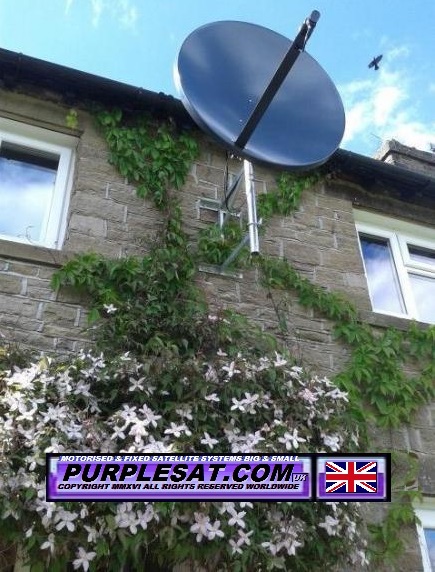 RURAL SETTING, 90 CM MOTORIZED SATELLITE DISH SYSTEM Up to 60 satellitres from over 60east to west and boosting download from the low local internet to access up to 250Gigabit/second.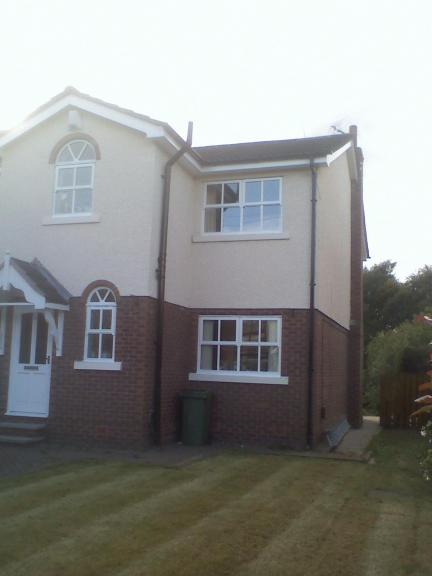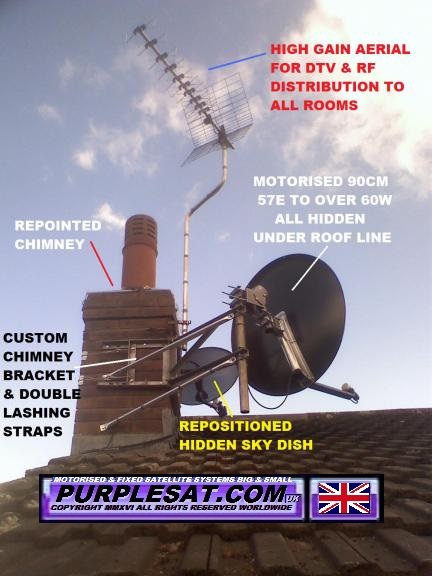 Hidden motorised satellite dish.


The motorised dish & sky dish photo could only be taken on a ladder on the roof & cannot be seen from the grounds or road.


HIDDEN MOTORISED DISH & SKY DISH CHIMNEY MOUNT
Aesthetically designed strong custom chimney brackets to achieve a no dish look on the front of the property.
Not even the Sky dish escaped the hidden treatment being removed from the front & the render made good & yet the motorised satellite dish acheived a massive arc of over 57e to 60w & better reception due to shielding from street lamps etc. for both the motorised & Sky dish by the roof itself.
Also fitted was a high gain wideband UHF for DTV distributed to all rooms using the existing coax where possible to limit disruption using higher, cleaner input signals & deliveiring full DTV signals on all outlets including the new HD channel's MUX. The Chimney was also pointed with a high tensile waterproof PVA mortar mix.
Also

2 roof tiles were noticed by the installer to have been broken by what looked like a roofer who had been employed to repair ridge tiles & a potentially dangerous large piece of mortar from the ridge left next to them (probably what was dropped to break the tiles in the first place) ..
The broken tiles would have been letting a lot of rain water in the roof & damaging the underfelt that perishes if this is allowed to continue for too long.
The broken tiles were pointed out to the owner & we replaced the tiles free of charge (the actual tiles were less than £3) saving the owner yet another roofer call out & water damage to the un defelt & ultimately the house ... estmated at least £3-400 or potentially £1000's had it not been noticed for a very long time- -
it took us minutes because we had all the gear installed already for the motorisd satellite instal & were there & know properties & building techniques for safe & strong satellite installation ...
if we see a problem with a property we always point it out to the owner & often do quick roof repairs etc.. free - & that can cancel out the cost of the satellite install.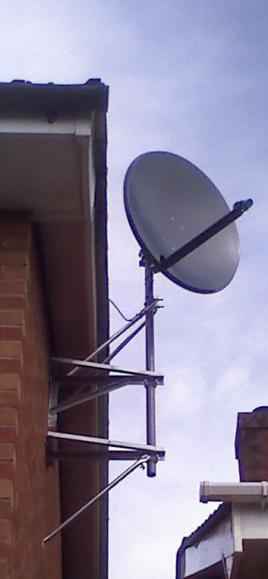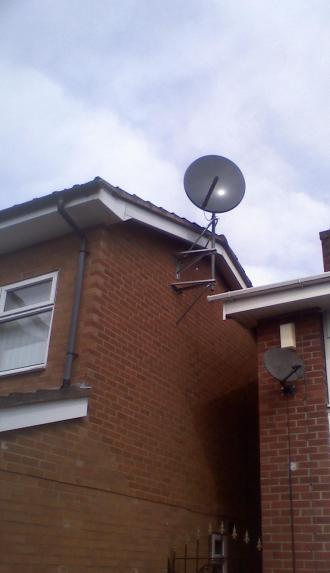 MOTORISED 90CM 50+ east to west 40+ satellites.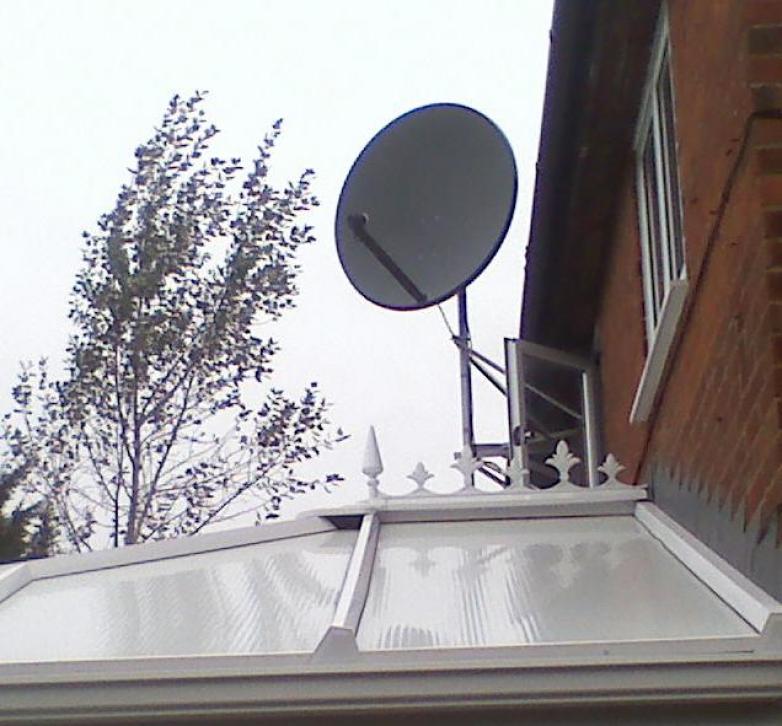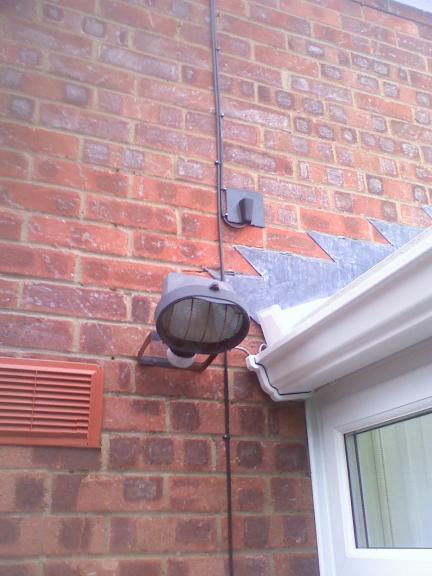 MOTORISED 1.1m 45e to 58w- c. 40+ satellites.
45e 42e 39e 36e 33e 28.2e 26e 23.5e 21.6e 19.2e 15.8e/16e 13e 10e 9e 7e 3.1e 0.8w/1w 4w 5w 7w 7.3w 8w 11w 12.5w 15w 18w 22w 24.5w 27.5w 30w 34.5w 37.5w 43w 45w 58w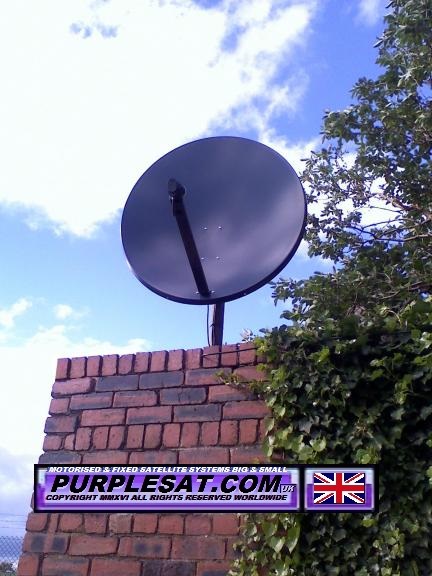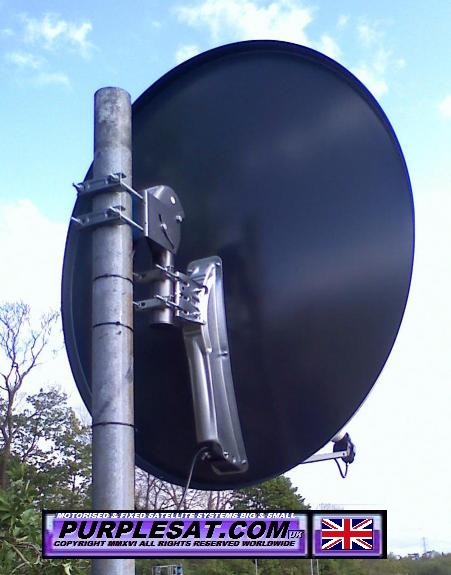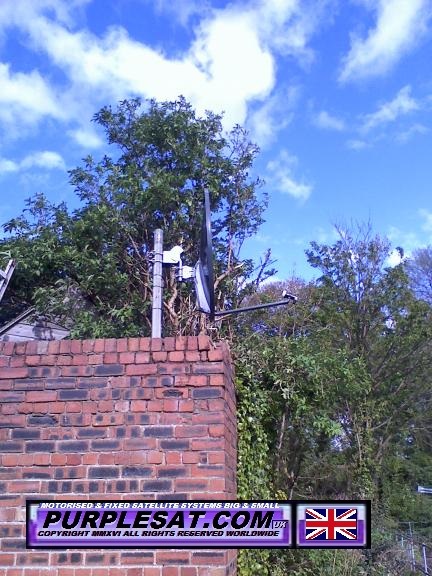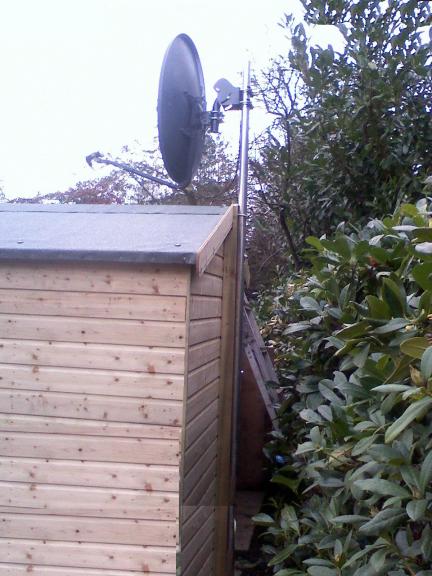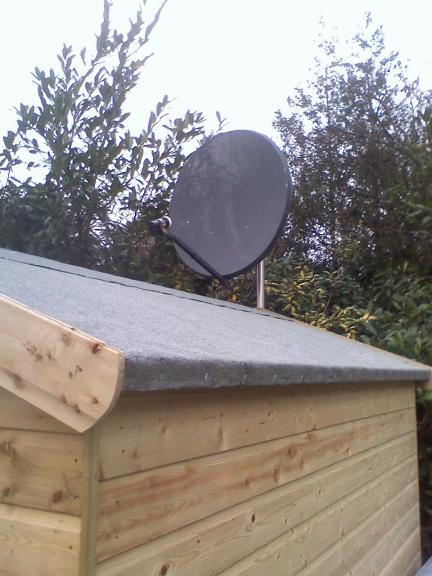 Owner built very strong out building mounted motorised satellite dish & Diag of planned install options.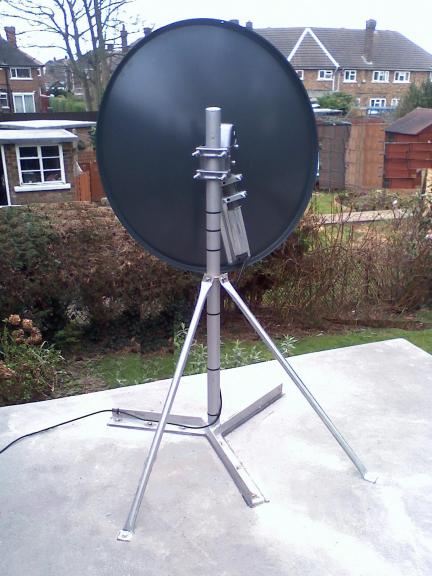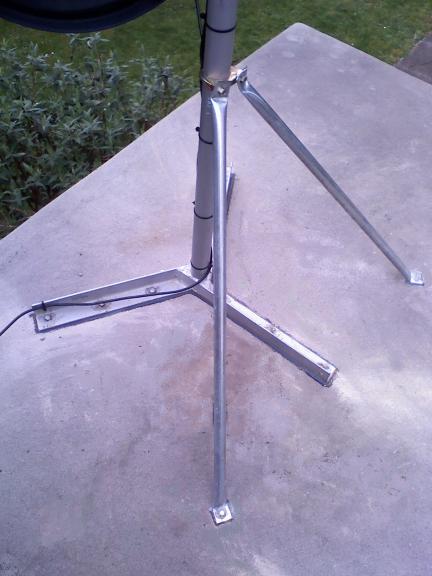 Roof or Ground Mount (Penetrating)
Pole is 50mm x 3.5mm wall galvanised & coated shedule 40 steel pipe & base is triangle welded 50mm x 50mmx 4mm angle bolted to 6" concrete roof with 2 lateral brace bars & sealed with 30 year mastic. A TD88 (90cm) receiving Nilesat 102 verticals plus 7.3w / 26e / 4w / 4.8e etc... good margin reception and an eastern to 53e.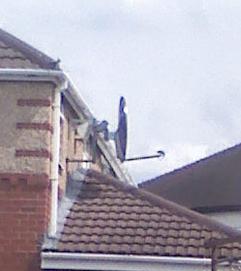 TD 88 (90cm) motorised Triax dish- 53e to 45w 40+ satellites.
This had what looked like quite a restricted view having a hill & houses to all it's south view but the arc was still 53e to45w & possibly further due to our accurate pre-surveys & it didn't need to be a high install. It is one of the most suitable looking positions on an attractive property.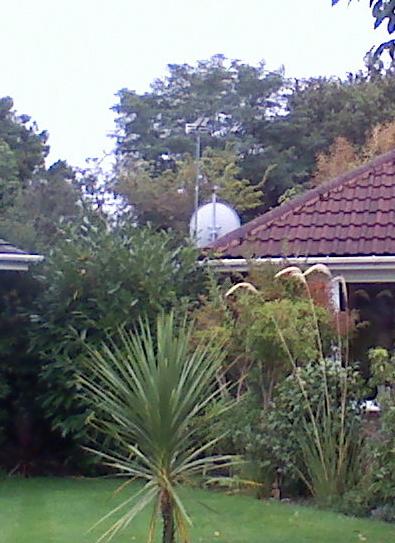 Garden Mount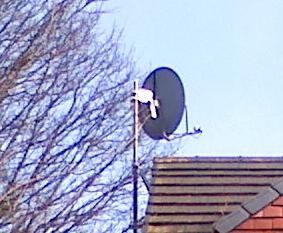 Over the apex motorised Mesh dish.

Installing large dishes - especially motorised requires experience & structural & engineering skills at

purplesat
. We arrived at this installation to find a 1m dish had previously been installed in the same place on the gable end over the sub apex (there is a higher main roof apex/ gable end) on a thin steel aerial pole & pair of standard T & K brackets. It had previously been blown down damaging the dish, LNB, pole and caused cracks in the wall and could have caused injury at the time. The damaged dish had been reinstalled on an equally inappropriate L bracket lower down and it's efficiency was lower than a 70cm for noise & signal power levels.
We changed the specification to a higher performing 80cm perforated mesh dish as the customer did not require anything larger and used super strong

purplesar

braced brackets & and brace bars & solid pole to withstand 100mph+ winds & give good functionality up to 60mph. Above 60mph and we design the installations to 'give' naturally to limit strain on the installation and building - most dishes - including Channel Masters are rated this way.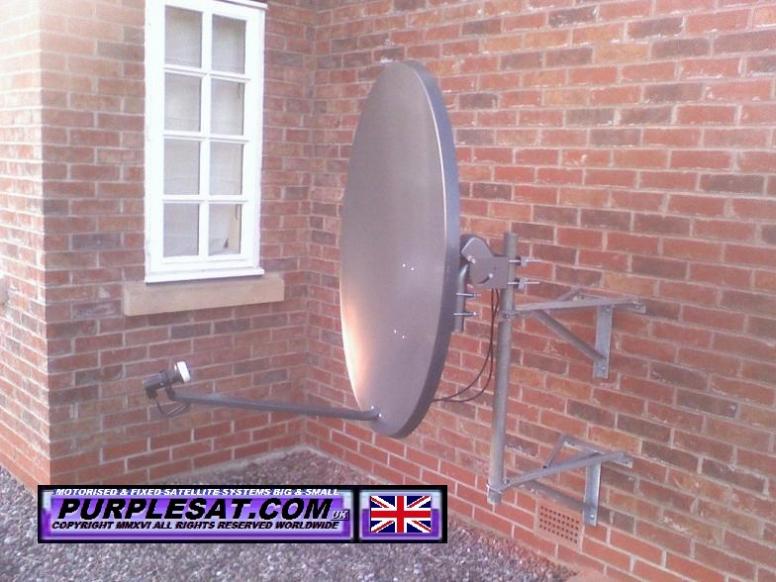 DISHES CAN BE LOW DOWN & STILL SEE 40 SATELLITES FROM OVER 50e to 50w
This was installed in an attractive rural location and as you can see is less than a meter off the ground and yet still achieved a larger arc than most installers ... . and including reception from Nilesat at 7w.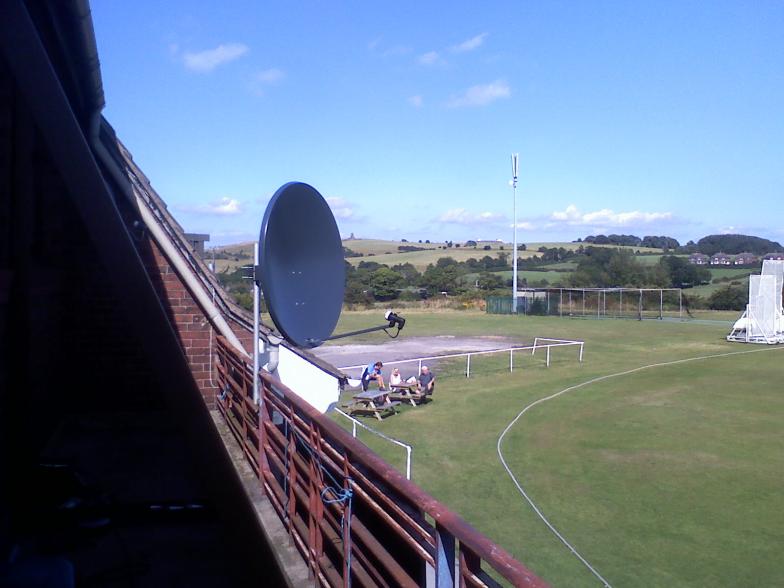 Strong pipe welded mount overlooking an exposed vista with large heavy steel motorised galvanised dish.
53e to 45w & possibly further / 40+ satellites - 5000-10000 channels & good Viasat HD reception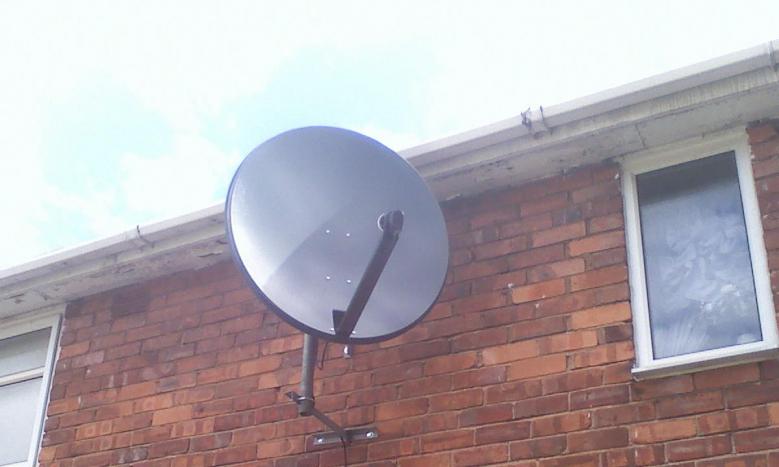 TD88 on Darkmotor Superior 57e to 43w & possible over 60e & 40 satellites+.


Another low down dish installed below the gutter & in the middle of a housing estate surrounded by houses & trees on all sides on it's southeast & west view & yet with the experience at Purplesat.com still delivered a massive arc of possibly over 60 degrees to the east to 43w & with a smaller footprint on the wall as a result.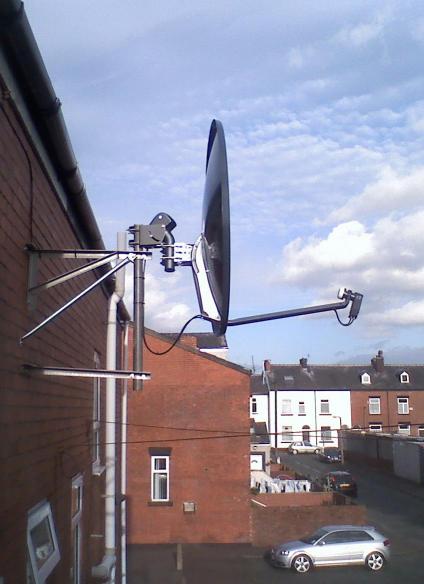 TD 1.1 South facing wall & under the gutter mount x twin LNB to VU+Duo [53e]45e - 50w+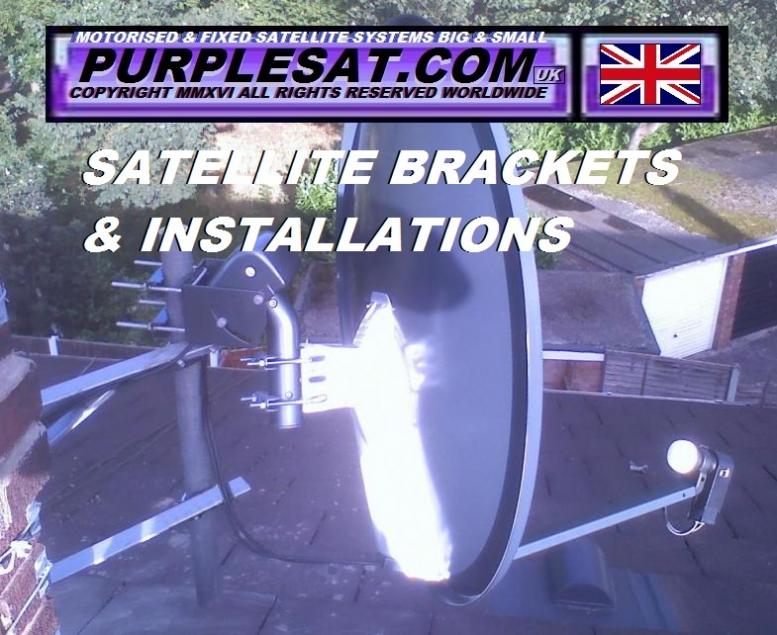 Round the corner mounted motorised satellite dish with tripple lashing kits & wall bolts with reinforced brickwork.


These

Purplesat.com 45 degree T & K & KK brackets allow access to the arc

round corners

allowing the main anchor points to be in the 'safe' zone on the brickwork - in this case this one was chminey mounted & the chimney was inspected for it's condition & suitability & strengthened by higher strength water proof PVA mix & in pure form and as the admixture for the mortar for pointing along with 30 year lead mastic making a much stronger than normal chimney [which also adds to the property's building integrity & longevity].




Combined with this the brackets are not only bolted in place & all anchors consolidated with water proof PVA , but also triple lashing kits were used to produce a very solid job that was also barely visible from the front of the property. Only after this was the motorised dish installed & attained an amazing 53e to 45w & beyond & 40+ satellites & nearly 10,000 channels
MOTORISED 1.1m on Custom brackets - nearly 60e & over 60w
A massive arc of satellites, excellent Nilesat reception for the size & area with large margin beIN Sports
strong custom brackets & brace bars that would take a 1.2 if required.
EXTREME

LINE OF SIGHT

INSTALLATIONS
HIDDEN ROUND THE BACK-

DIFFICULT TO NEAR IMPOSSIBLE LINE OF SIGHT PROBLEM SOLVING.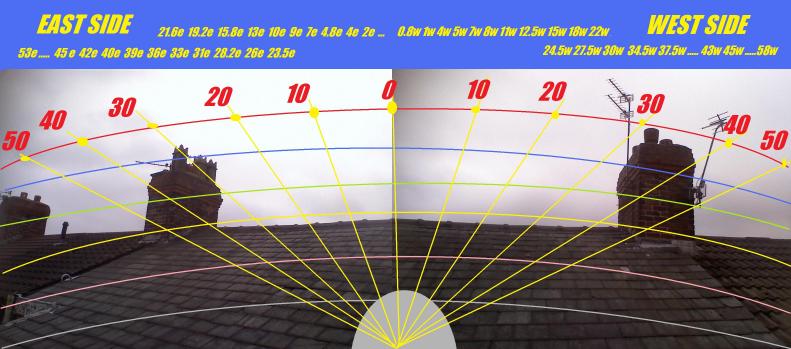 Very long pole installation to compensate for long sloping roof that included an extention on a rear installation with large chimney.s
The arc was impossible to get the arc from the ideal position of just over the gutter because of the length of the roof but still resulted in 53e to 45w & 40+ satellites.
To install a 90cm motorised dish at this height above the top bracket is quite a difficult engineering problem to maintain the solid motor/ dish at an acceptable standard for medium strong winds. The pole extends over 2.5m above the top bracket & is braced from the wall to maintain that level of rigidity with both pole & bracing being of lightweight alloy material to reduce overall weight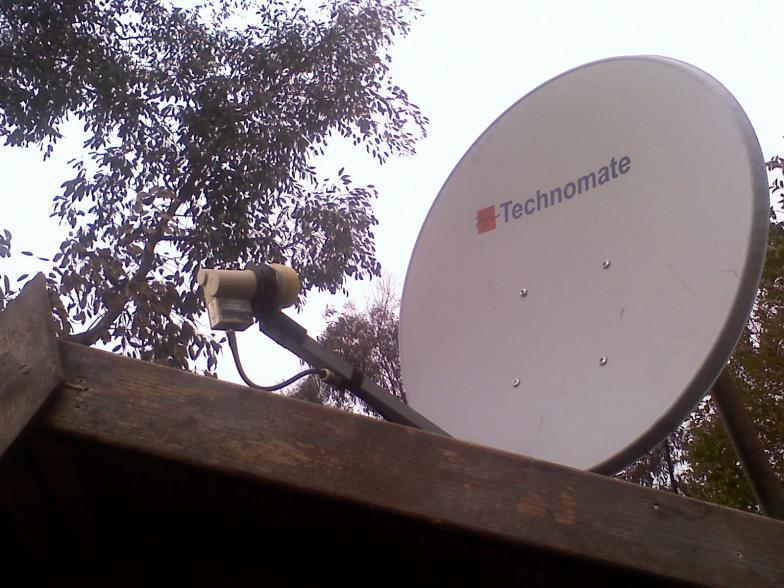 1m motorised on 3m pole
This is the old position- It had been installed at about 3 meters off the ground on a 2" scaffold pole & attached to a wooden shed with extreme movement at the top of the pole where the motor was installed and the arc was literally east side only. To install a 1m motorised satellite dish at such a height from a ground mount in a garden requires quite extensive engineering techniques to keep the dish stable at the crucial point where the motor attaches to the pole.
After a site survey, we simply re-installed the motorised dish on a sheltered ground mount about 450mm (45cm!) off the ground yet giving it a 45e to 45w compared to the handful of satellites it had received and with far less wind and RF interference exposure.
Height is not always best as low down sheltered locations have far more advantages when location permits
.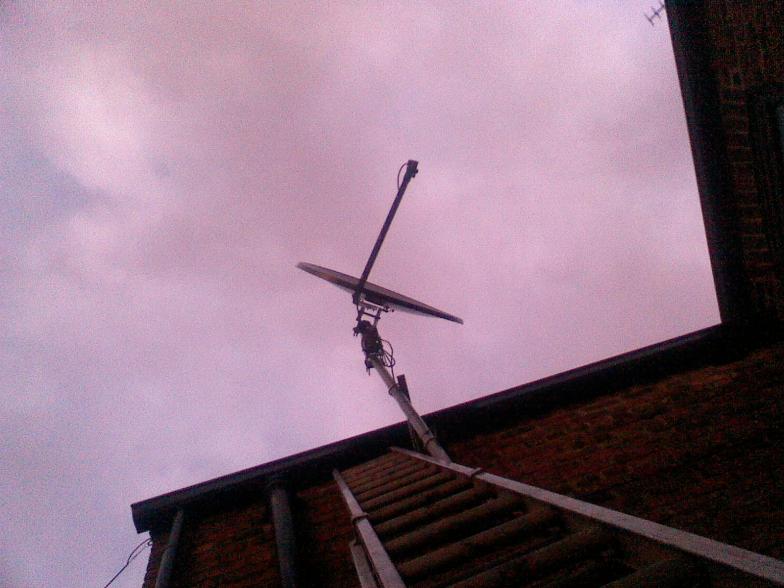 1m motorised over gutter
When we arrived this was one of the worse installations of a 1m motorised over a gutter we had seen.
The dish that was chosen was one of the weakest that are made and it had by then been so battered by the exposed location that it was extremely bent out of shape - bent over from the back and pushed over the AZ/EL bracket fro the front. The pole was a typical thin aerial pole and standard T & Ks and seriously wobbly. The BER Signal to Noise was so bad a Sky Z1 would beat it.
We took the dish down and took it back to the workshop and strengthened it and braced with our feed support arms and back brace andbrace at the bottom of the dish. We re-installed the brackets with braced T & Ks and scaffold pole and higher brace bar.
The end result was Channel Master performance over an arc of 53e to 58w with Nilesat (the best measure in the area it was installed) and it will perform for years and not bend in the first wind.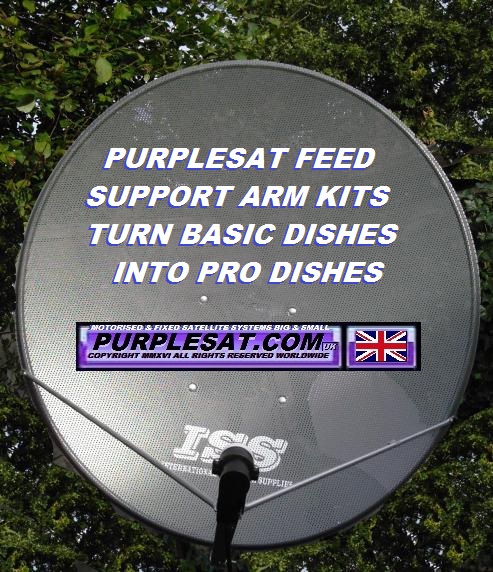 ISS 1m with Purplesat.com feed support arms & back brace
An example of a weak dish made to work like a Channel Master.
Installed on a Moteck 2100 earlier design 45e - 45w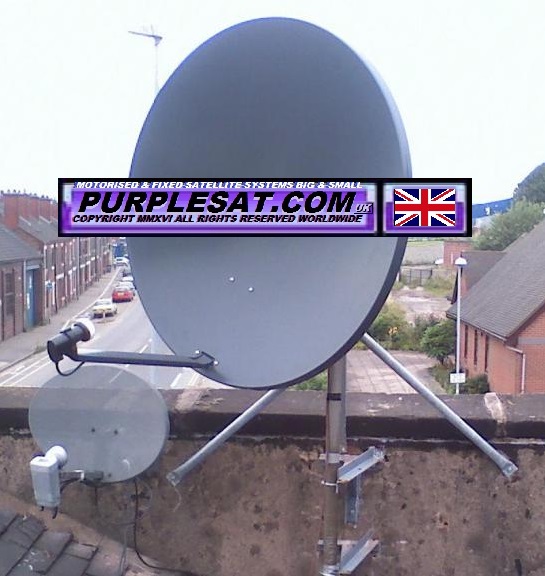 1.1 Traix motorised on a Darkmotor 53e to 58w including 7w
30-40 satellites, 5000-10000 Channels including HD & 3D.
For pubs/ bars etc.. this type of installation gives access to a considerable number of football providers around Europe & the middle east & not just the EPL including FEEDS that are transmitted by some TV companies and can be intercepted free!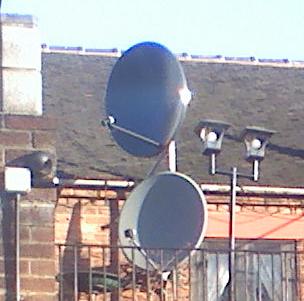 1.1 Triax motorised on a Darkmotor 53e to 58w including 7w
30-40 satellites, 5000-10000 Channels including HD & 3D.
Plus access to several EPL providers around Europe!
With a 1m Steel Gibertini Dish fixed on 4.8e for Viasat!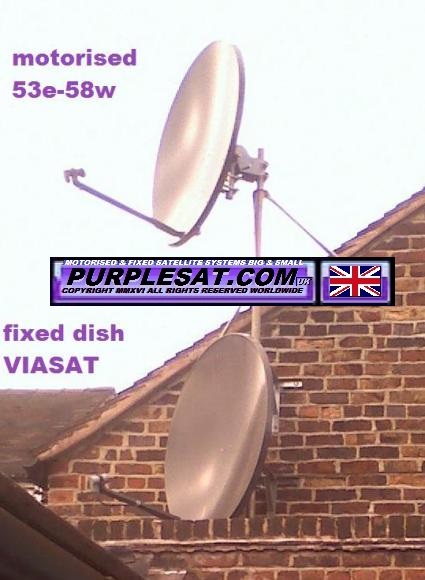 2 1.1m dishes - 1 (lower) fixed for VIASAT HD EPL, 1 (top) motorised 53e to 58w.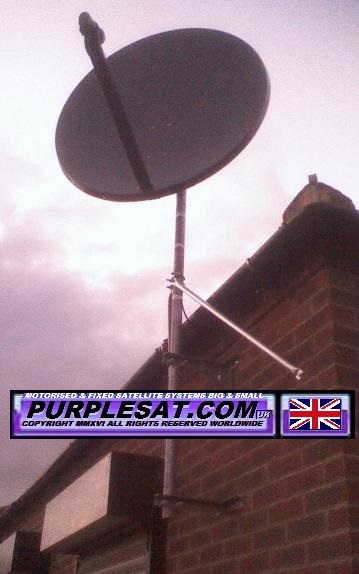 TRIAX TD 1.1 on Darkmotor Superior OVER 50e to 50w 40+ satellites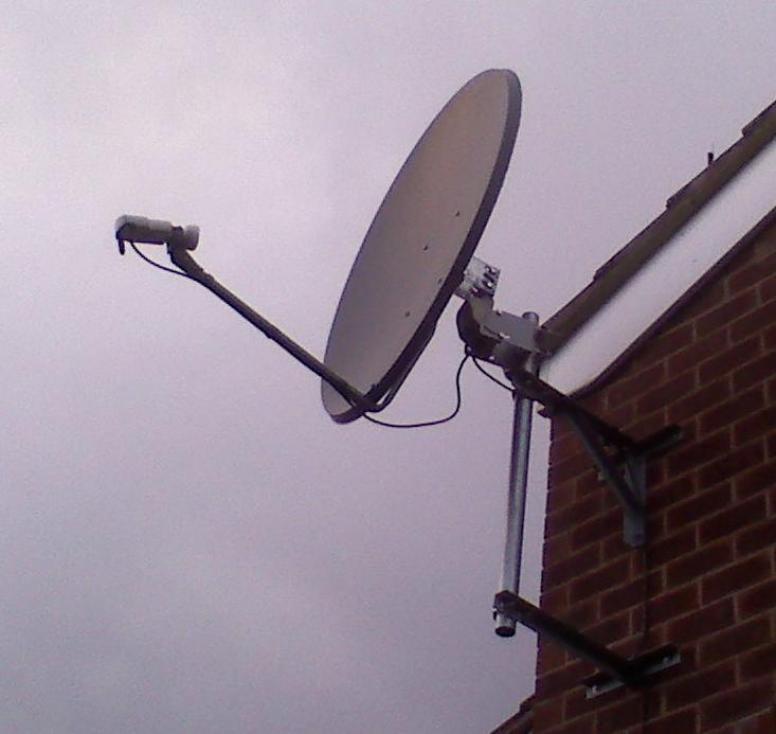 Orbital 1m on a STAB/Cryptic HH100 45w to 53e 40+ satellites
BALCONY MOUNTED MOTORISED 90 x 40+ SATELLITES & OVER 50e- 50w WITH TWIN BRACED Ts & CONCRETED BASE
WITH WOODEN SURROUND THAT DOUBLES AS A PLANTER BASE
VERY EXPOSED WIND & SALT AIR COASTAL LOCATION...!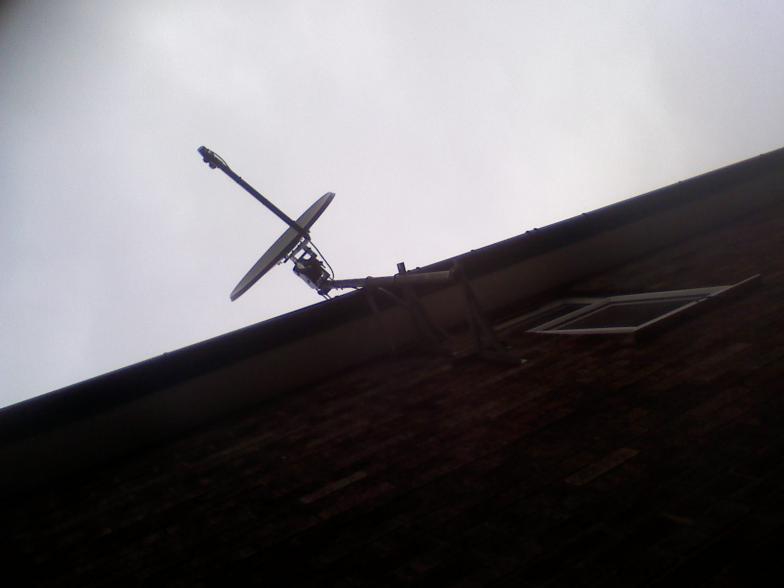 80cm motorised with discrete brackets & brace bars 40+ satellites.
Already recorded at over 53 degrees to the east, the eastern view was so favourable being high up on a hill & overlooking a very clear low east view, we think this installation could get over 60- 65 degrees to the east.
This is also a good example of tight / close bracketing achieving very strong installations with a minimum of brackets for a very exposed location. The brackets are double 18" K brackets with double lateral bracing on the brackets and very tight, almost hidden pole to wall brace bars that surpassed the 100mph loading test we applied.
THE VAST MAJORITY OF MOTORISED SATELLITE DISHES ARE SIMPLY NOT AS SOLID & CAN LOOSE SIGNAL FAST IN MODERATE TO STRONG WINDS!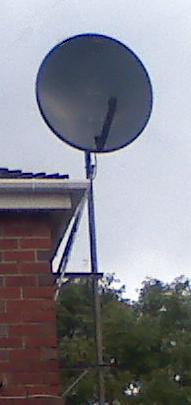 Triax dish motorised 45w to 53e 40+ satellites
This was actually installed while he was away on holiday.... without the owners knowledge - his friends clubbed together and bought him the motorised installation when he said he fancied having one, it was quite amusing when his neighbour came out to see what was going on .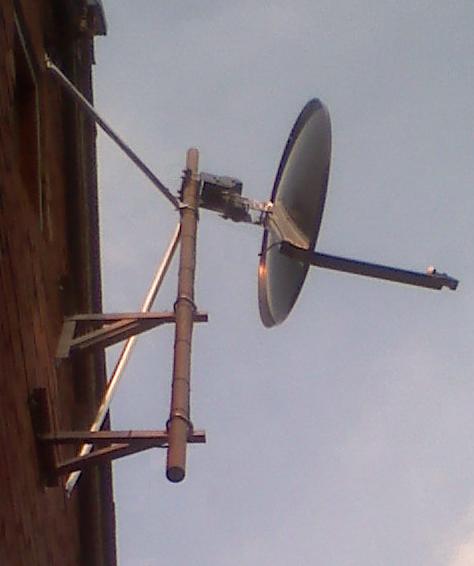 Triax TD88 motorised 45w to 53e 40+ satellites as usual.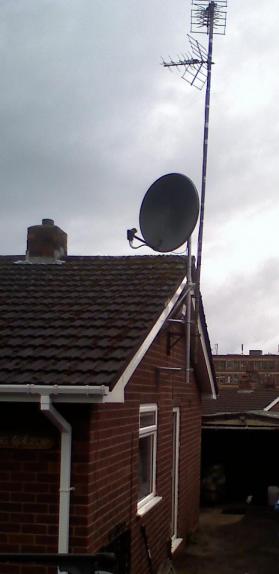 Bungalow mounted 90cm motorised on a Darkmotor Superior all metal gear & lateral braced Ks 57e - 45w 40+ satellites.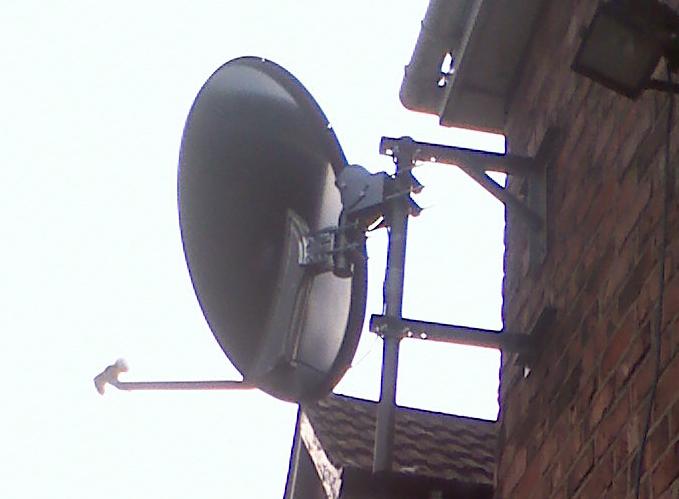 Triax TD88 on Darkmotor Superior 45w to 53e 40+ satellites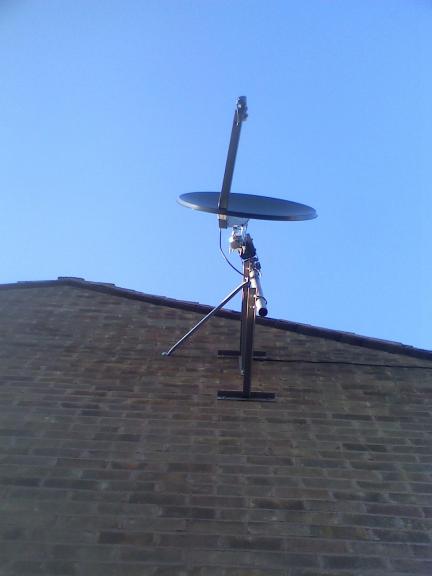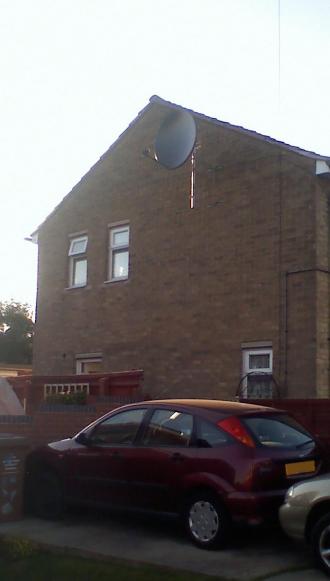 90cm MOTORIISED with a MASSIVE 65e to 65w arc.
This 90cm motorised lower gable end installation [not over the roof] achieved a massive 65e to 65w arc or possibly further due to a locally flat view to the east & west and slight elevation of the property plus clearing several tall trees to the west which can help in reducing noise.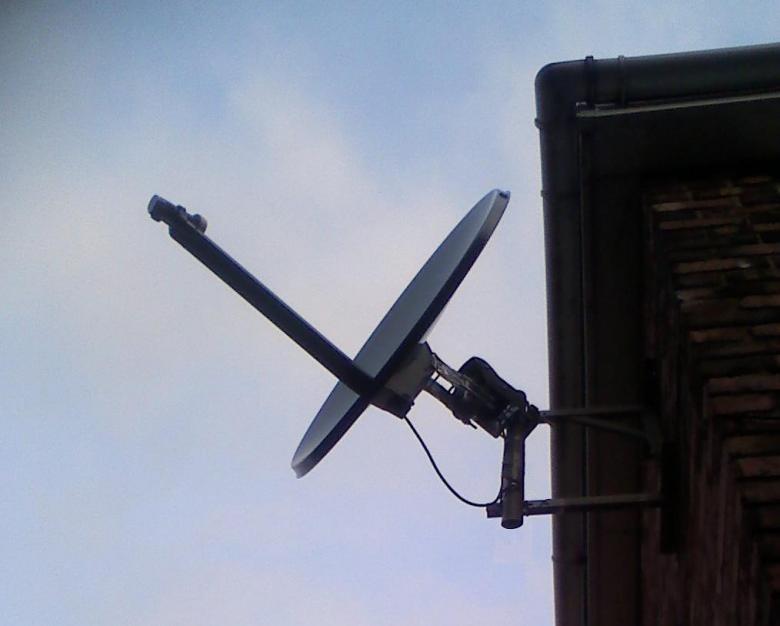 2x Triax TD 88s Motorised both 53e - 45w x 40+ satellites.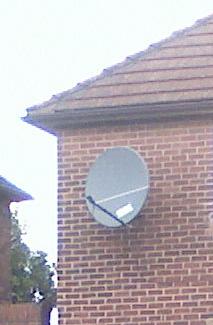 ISS 1m Mesh Dish with custom feed support arms & back upper & lower bracing.



We do not supply ISS dishes as a rule as we deem the dish face & AZ/EL too weak in strong winds- however, this is a good example of making a good performing dish from a poor one & one that will now stand up to strong winds & thus continue to give good performance year on year. We tested this dish against a 1m Channel Master with masking to bring both dishes to exactly the same surface area & it performed more or less like for like with a Channel Master or Prodelin of the same surface area- that's how it's done! [& 53e to 45w x 40+ satellites & 5-10,000 channels]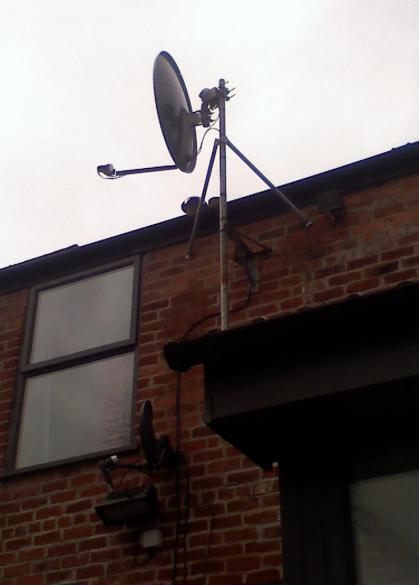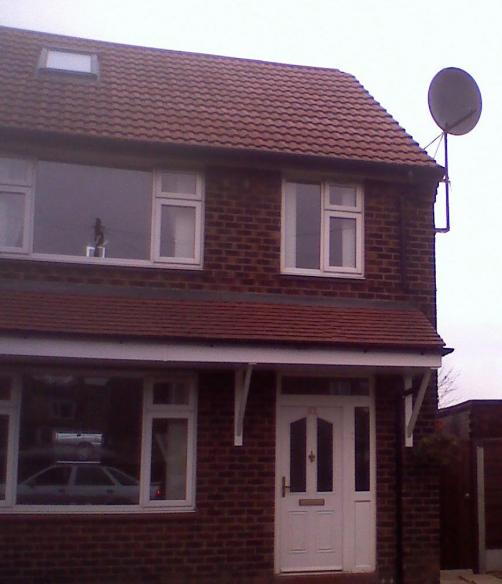 90cm MOTORISED FRONT / SIDE INSTALLATION 50+ east to west 40+ Satellites.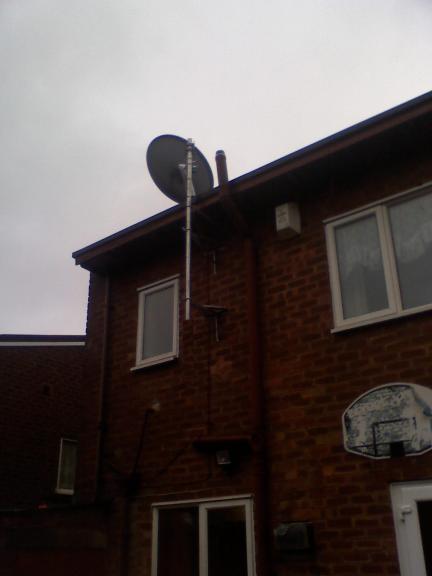 Over the back roof mount & close up of brace welded bracket - 57e to 58w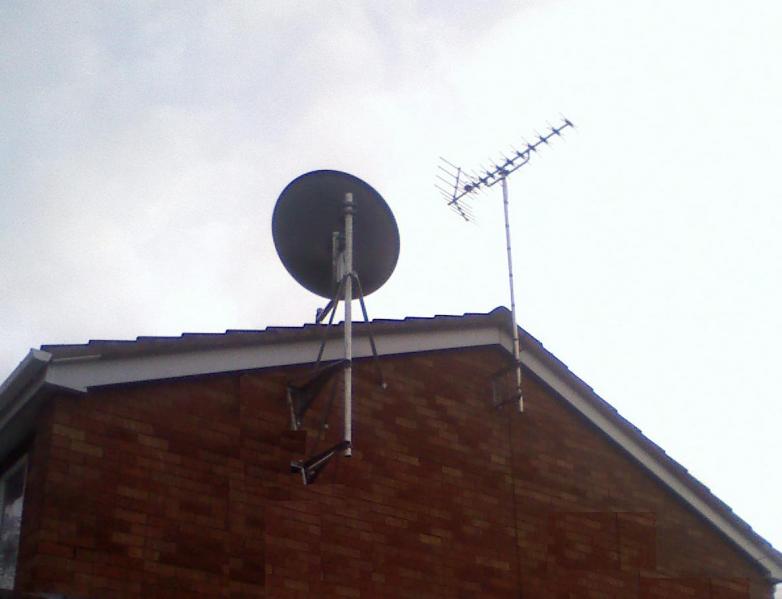 Over the roof 57e to 58w 1.1 with Nilesat 102 reception

The World view from a motorised Sky Dish invisibly installed almost anywhere.

Motorised Sky Dish mounted with a our custom chimney mount & double lashing kit- 45e-45w

Another tidy example of a motorised [modified] Sky dish that from the ground looks juat like any other Sky dish but can quietly move from satellite to satellite - receiving from 30-40 satellites & between 5000- 10,000 TV & radio channels & delivers up to 4 outputs for 4 receivers or 1 twin tuner & 2 single or 2 twin tuner receivers.

EXTREME

LINE OF SIGHT

INSTALLATIONS
HIDDEN ROUND THE BACK-

DIFFICULT TO NEAR IMPOSSIBLE LINE OF SIGHT PROBLEM SOLVING.
.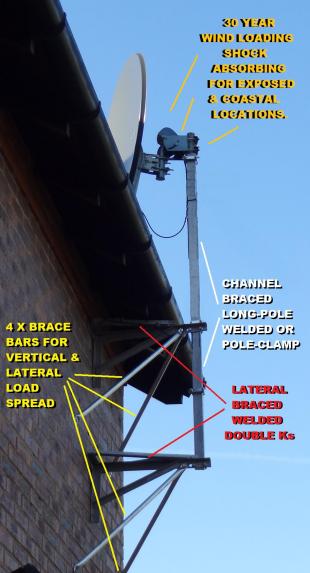 Very wind exposed central entrance location to the Chesire Gap with open aspect stretching to the horizon.
This over the roof Motorised 90cm dish in the middle of the Cheshire Gap was previously limited to 33e maximum eastern view & could not receive the popular 26e & free movies on a substandard installed long pole ground mount that had been bolted to a concrete fence pole with flimsy flat plate aerial brackets & 'aluminium' aerial pole, with dish clamps installed upside down & LNB out of focus, all f connectors were poorly fitted causing possible damage & intermittent signals plus the coax was of aluminium construction compared to our all pure copper WF100 Webro CAI approved coax.
Re-installed twice by Purplesar.com tree to very high wind loading for the exposed Cheshire Fap location that is well known by ,metiorologists to funnel storms fronm thr Irish sea & North Atlantic from the Dee estury to the Feild coast through the 'GAP' between the hills of North Wales & the Peinnines through the Cheshire Plain [GAP] to the NW Midlands.

receive over 40 satellites from over 57e to 58w & exceptional reception & bad weather margin on 26e & the free movies and reception on the new Atlantic Bird 7 / Nilesat 104 & the movies & sports etc...


This new installation position, like so many others- also cannot be seen from the front or inside the house where as the previous pole mounted in a fence post could be seen from inside & directly by immediate neighbours.


EXTREME

LINE OF SIGHT

INSTALLATIONS
HIDDEN ROUND THE BACK-

DIFFICULT TO NEAR IMPOSSIBLE LINE OF SIGHT PROBLEM SOLVING.

Pipe Welded Heavy duty Swan Neck x 45 degrees to extract the most out of a difficult tree effected arc
by projecting the dish as far back as possible, with twin lateral braced Ks & brace bars.


EXTREME

LINE OF SIGHT

INSTALLATIONS
HIDDEN ROUND THE BACK-

DIFFICULT TO NEAR IMPOSSIBLE LINE OF SIGHT PROBLEM SOLVING.



EXTREME
LINE OF SIGHT
INSTALLATIONS
HIDDEN ROUND THE BACK-

DIFFICULT TO NEAR IMPOSSIBLE LINE OF SIGHT PROBLEM SOLVING.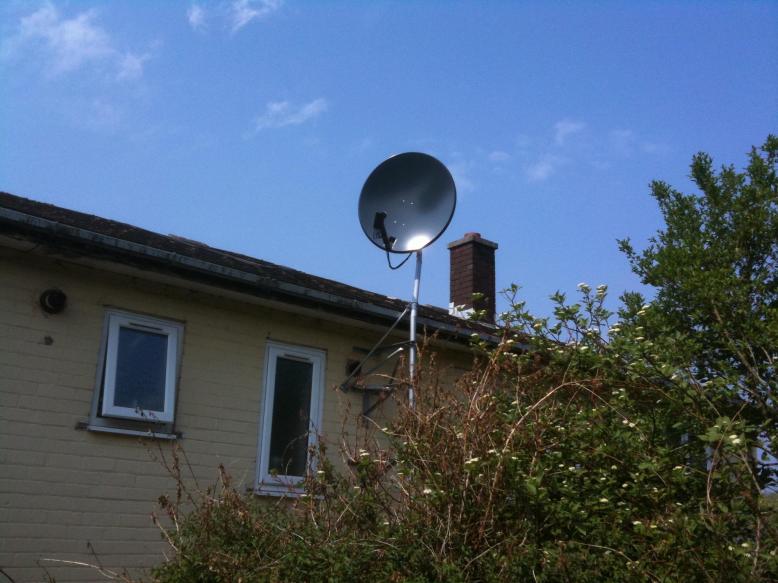 From here the 45 degree swan neck looks straight ...
it actually gains the absolute maximum distance without actually going over a neighbouring property.... just.


EXTREME

LINE OF SIGHT

INSTALLATIONS
HIDDEN ROUND THE BACK-

DIFFICULT TO NEAR IMPOSSIBLE LINE OF SIGHT PROBLEM SOLVING.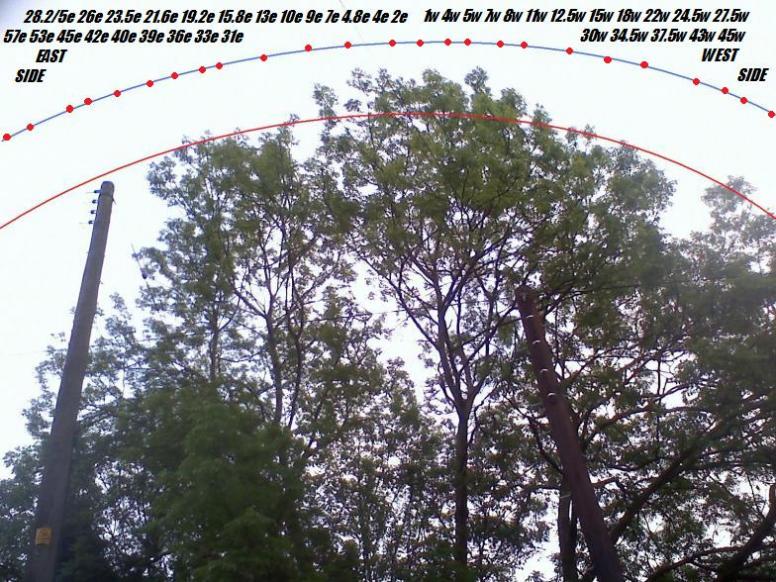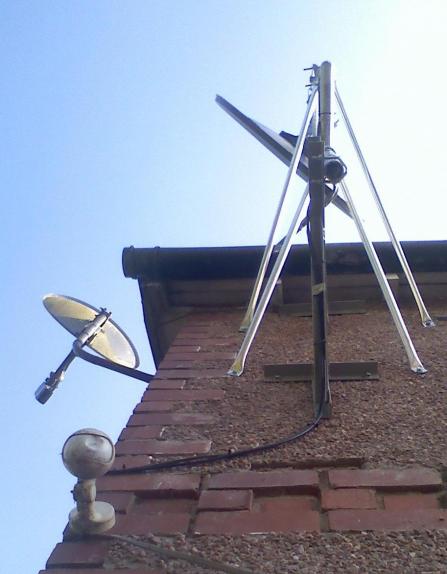 90 degree pipe welded swan neck and brace bars to gain as much height & distance but retain strength to get over nearby tall trees.

This was yet another extreme installation to get over close trees & special engineering was used to extract every last mm to get over close tall trees, especially due to the very high tree & plant growth this year due to the exceptionally mild early weather.
This was a re-install too as the previous installation was incredibly flimsy at the motor/ dish where our installer climbed the ladder in front of the owner & with his little finger pushed the pole [a flimsy 2mm thick aerial pole] 6-8" - a totally unsuitable pole to use on an install using an aerial pole for a 1m dish over a roof like this?
The pole had bent on it's length with strong winds & this could have resulted in serious damage to the dish & motor as these thin poles look strong to the inexperienced but only have strength up to a critical point & then all the strength goes resulting in another similar install crashing down & damaging the expensive motor & dish as feature in the Rouge's Gallery
It was also found that the quite solid steel Orbital dish was bent with over 20-30mm outage causing less signal & increased noise ingression.
This was also brought into tolerance while we reinstalled the system properly
& as a result & also with installing a new high sensitive LNB, 7w/ Nilesat was received at 3 o'clock in the afternoon in Cheshire on a 1.05m steel dish which is quite something

-
this would also have benefited from a more rural aspect to the location & view & some shielding from the trees that in these case can help with weak satellites by just clearing them. Even so this was a difficult installation as can be seen by the custom pipe welded 90 degree swan neck bracket & extra brace bars.

EXTREME
LINE OF SIGHT
INSTALLATIONS
HIDDEN ROUND THE BACK-

DIFFICULT TO NEAR IMPOSSIBLE LINE OF SIGHT PROBLEM SOLVING.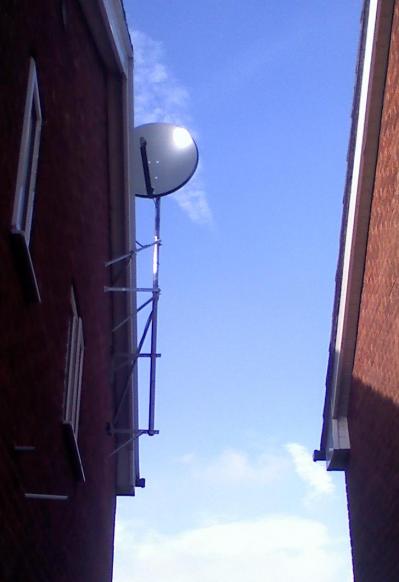 Rear of property, over the roof motorised satellite installation requiring quite a long pole/ bracket & bracing installation to still get all the satellites.


EXTREME
LINE OF SIGHT
INSTALLATIONS
HIDDEN ROUND THE BACK-

DIFFICULT TO NEAR IMPOSSIBLE LINE OF SIGHT PROBLEM SOLVING.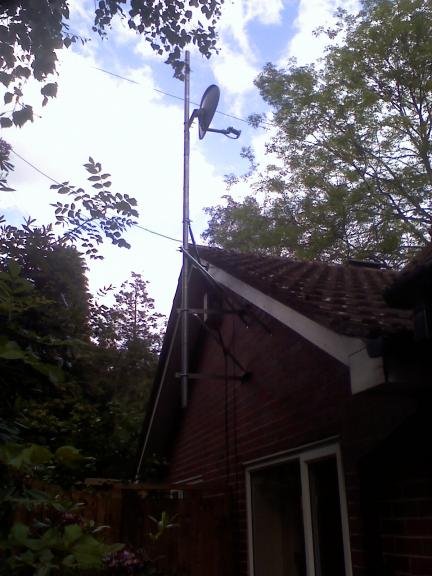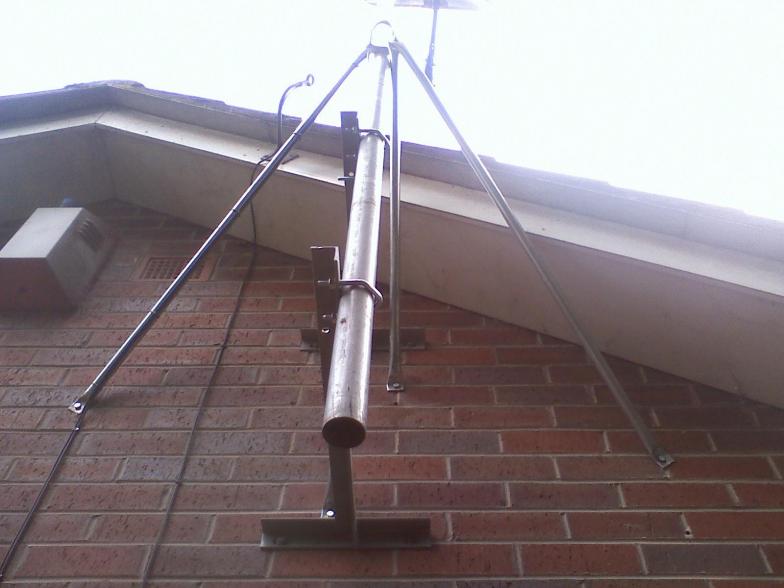 Very long & strong pole braced for strong winds for extreme high close trees completely surrounding a dwelling.


This installation was needed on a care home for serverly disabled when a local resident on the south side of the property decided they didn't want the special care home next to his house & so allowed trees on their land to engulf the care home leaving the home, the helpless residents & hardworking dedicated carers virtually sun blocked and blocked off from TV reception fron an aerial & satellite & no cable access in the area..


EXTREME
LINE OF SIGHT
INSTALLATIONS
HIDDEN ROUND THE BACK-

DIFFICULT TO NEAR IMPOSSIBLE LINE OF SIGHT PROBLEM SOLVING.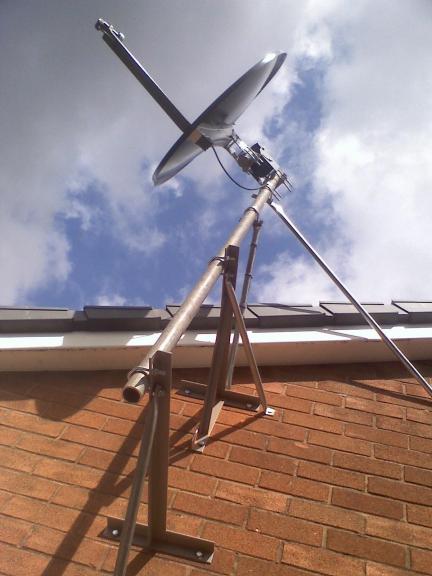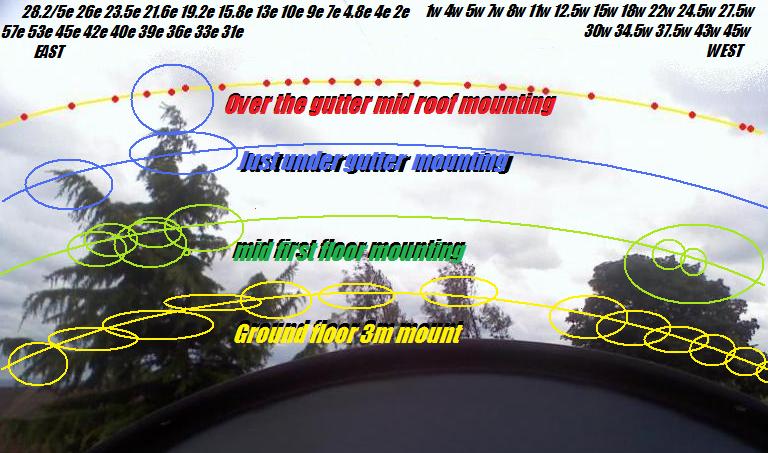 Extreme height close trees to south of the dish's south view-
After installation the number of satellites & arc went from less than 20 & a limited arc to over 40 satellites ..
50e to 50w and includes Nilesat reception on a 90cm [in mid - N Manchester .

EXTREME
LINE OF SIGHT
INSTALLATIONS
HIDDEN ROUND THE BACK-

DIFFICULT TO NEAR IMPOSSIBLE LINE OF SIGHT PROBLEM SOLVING.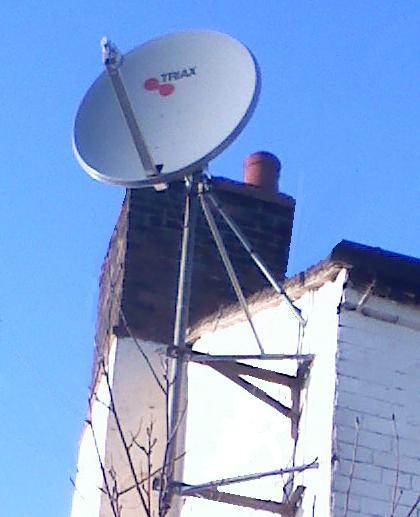 Motorised TD88 pub football installation over 50e-50w & over 40 satellites
This motorised satellite installation for a busy public house needed to get over nearby tall buildings to the eastern side- which is an important area as regards satellite reception for the UK.- especially for football!


The dish & motor assembly, as with all our installations, are very solid and carry on performing in extreme windy conditions- not just on fine days.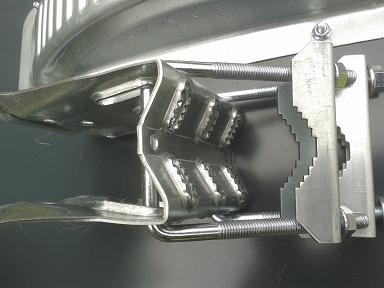 TRIAX AZ/EL BRACKETS MASSIVE POLE GRIPPING & SOLID ELEVATION.

IRS-

INTERGRADTED RECEPTION SYSTEMS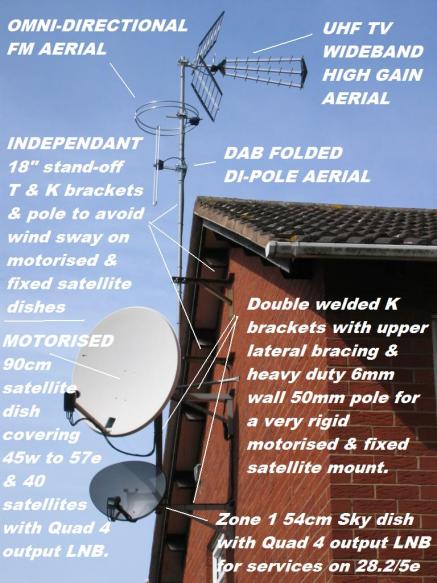 LOWER : TriaxTD88 with Black Ultra QUAD LNB mounted on motor & 54cm Sky dish -with QUAD
UPPER: HIGH GAIN UHF WIDEBAND / Omni-directional FM/ Folded Di-Pole DAB aerial.
Motorised attained in excess of 57e to 50w - 40+ satellites including high levels on Arabsat & the free movies.
Instalion used 2 separate bracket & pole configurations to prevent wind sway on the motorised satellite from the aerials which are allowed to sway & does not effect their performance but would on satellite reception on weak satellites, especially in periods of high precipitation.
This installation has no less than 11 coax runs yet to look at the photo you can barely see any.
These are not multiplexed & all runs are kept separate & supplied to a media room - had they been multiplexed with the feed off 28e a larger dish would have been specified..



IRS system from 80cm dish on 28e plus digital high gain aerial & FM/dab aerial to multiswitches for 40 plus apartments


BIG DISH

INSTALLATIONS.

CHANNEL MASTER 2.4M

FIXED DISH

ON

NILESAT 101/102 @ 7W -LIVE 3PMS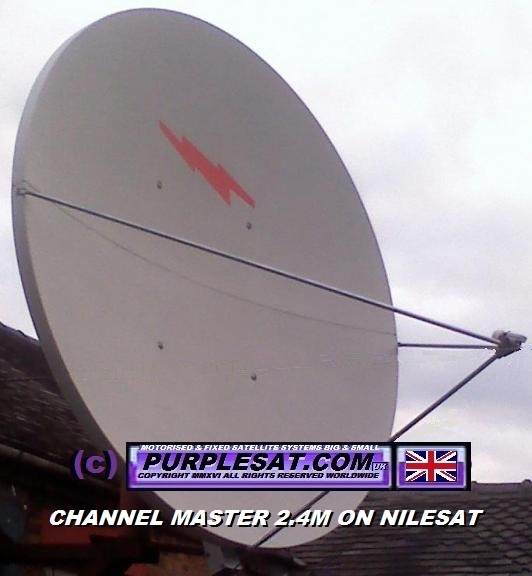 CHANNEL MASTER 2.4M FOR SHOWSPORTS/ SHOWTIME



on 7w NILESAT 3pm FOOTBALL

Originally installed for Nilesat 7w and the SHOWTIME- SHOWSPORTS English Premier League 3pm kickoffs up to 2010- an extreme fringe reception installation, the installation was originally potentially dangerous regarding the wall bracket design & wall construction & strengthened.
The dish had been assembled with the seam (this is a 2 piece plastic heat set dish face) was up to 10 times the maximum tolerance (up to 6mm outage instead of 0mm - 0.6mm). The AZ/EL can had been assembled the wrong way round with half the adjuster assembly pointing to the dish with a cable tie through it being used to tidy the coax. The left hand feed support arm was lose. The 3 legged 40mm feed clamp had been assembled wrongly with the 2 longer 6mm bolts forcing down on the feed support arms holding the feed clamp at the wrong position projecting the automatic focus point for the feed-horn some 10-15mm backwards and the feed-horn/ C120 LNB assembly was then fitted wrongly to try to compensate for the loss of focus. The feed horn itself was also actually mounted upside down- it would still work like that but the skew markings would be incorrect. In the receiver, the LNB settings were set to the America wide-band frequencies instead of the Europe / Middle East wide Universal LNB settings so that half the transponders/ channels were showing the wrong frequencies and there was a frequency gap in the middle missing some transponders completely.
There was an obvious noise issue in the area, particularly from telephone lines carrying RF/EM emitting digital traffic including Internet etc.. crossing right in front of the dish and quite a number of DECT phones. At this low signal fringe reception level all these design/ assembly & interference factors were critical but were not observed by the installer.
Most of these faults were dealt with......


This never missed a 3pm kickoff match in an area known to be extreme in reception and was the only dish to successfully receive SHOWSPORTS on the far weaker horizontals consistently every week for the EPL & other live football matches even though others tried including copying verbatim our installation within a few miles of the site & still failed.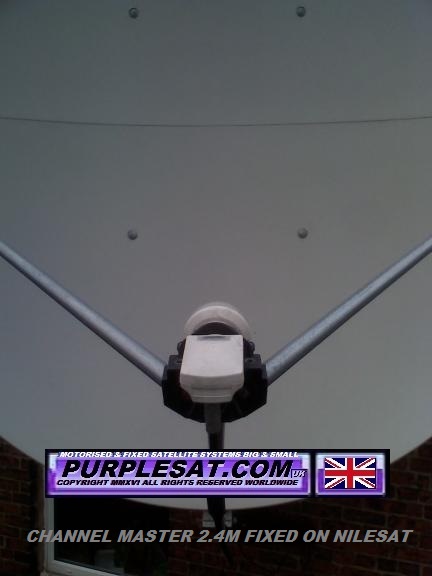 Channel Master 2.4m with LNB piggy back mod.



Normally you would expect to see a standard matched Channel Master or ASC C120 feedhorn with an C120 LNB. Fitting a 40mm Universal LNBf usually doesn't work too well because of the focus point is too short. This piggy back mod allowed us to get that focus and outperformed all other LNBs tested and faithfully pulled in every 3pm football match come rain or snow.

BIG DISH

INSTALLATIONS.

CHANNEL MASTER 2.5M PRIME FOCUS NPGM FIXED DISH - BADR6 ADMC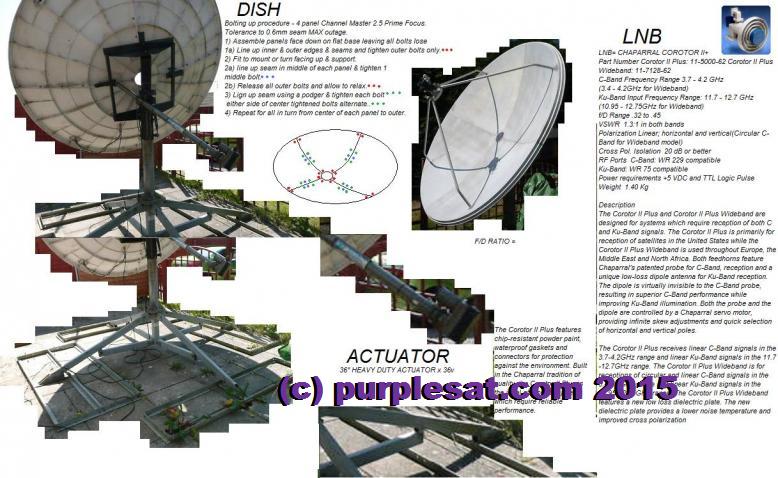 Channel Master 2.5m Prime Focus,
withPolar Mount & 36v 36" heavy duty Actuator & Chaparral C/KU band Corotor on ground mount/ non penetrating roof mount.
An older fibreglass 4 part dish face - not the more recent plastic Channel Master design.
This was originally intended to be installed on a public house roof in mid UK for reception of Nilesat & the

Showsports

channels for the EPL @ 7w, this then was changed to the satellite BADR6 @ 26e and the

Abu Dhabi HD Sports

channels that gained the rights. The whole dish weight including mount was excessive for the intended location - a 3-4' formed Victorian roof valley. It was deemed that the roof needed structural steel work from underneath the roof space and above anchorage, plus reducing the weight by remaking much of the EL & polar mount & main pole/ mountings in HT alloy to do this safely for the maximum wind loadings & maximum weight of snow on the roof in winter- Quite an engineering undertaking and not cheap.
On top of this the signal from BADR6 @ 26e was far worse than the already extreme marginal Nilesatsignals @7w that we had successfully installed the preceding years in the area, combined with reports coming in that the Abu Dhabi HD sports service was through a 'card' paired Humax receiver that was of low sensitivity increasing the required dish size for the area in the UK to we think about 3-4m or more.
We quickly swapped to the Viasat HD & SD services on 4.8e for most of the customers that was far easier to receive & the dish was instead sold on to be used 100+ miles further south in the UK that had a far better chance of successfully receiving the Abu Dhabi Sports HD EPL service- which after a lot of hard work & know how by a well known, respected big dish expert.. it did- not an easy task and very few reports of others in the UK so it was possibly a first. We would like to have a go in a quite time to receive it to a level that we know would deliver consistently at 3pms etc.. but our main focus has to be our customers receiving a consistent service from which ever EPL SP.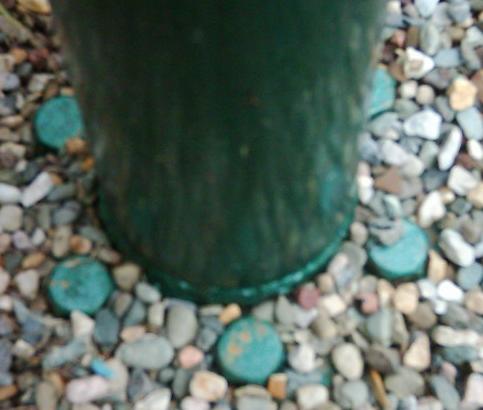 OUR 3" 4" & 6" FLANGED GROUND MOUNTs FOR BIG DISHES

This is one of our custom ground mounts that can support 3m-4m ground mounted satellite poles holding 1m-1.1m, 1.2m to 2.4m dishes in 60-100+mph winds at 3-4m & survive 125mph.
The flanged fitting means it can be adjusted at the base for level at any time if there is any movement/ subsidence. It also means that the pole can be removed completely leaving a flush base that can be completely hidden without the 20mm threaded bars protruding above the surface in the case of King Posts.The concreted base is hidden from sight.
The pole starts with 4" heavy wall insurance welded schedule 80 (or 10mm wall) pipe for the 1st meter or 2m*. Then followed by 3" schedule 40 (or 5-6mm wall) and the final meter (for a 3m installation) reducing to a 2" shed 80 (5mm wall) pipe for 1m or 3" for 1.8m or all in 4" for 2.4m. In some domestic locations in large grounds these have been dressed with Victorian lantern top &/or flower hanging baskets etc...

BIG DISH

INSTALLATIONS.



PRECISION 1.8M

ALI' SPUN PRIME FOCUS ON CHANNEL MASTER POLARMOUNT

- 7W NILESAT 101/102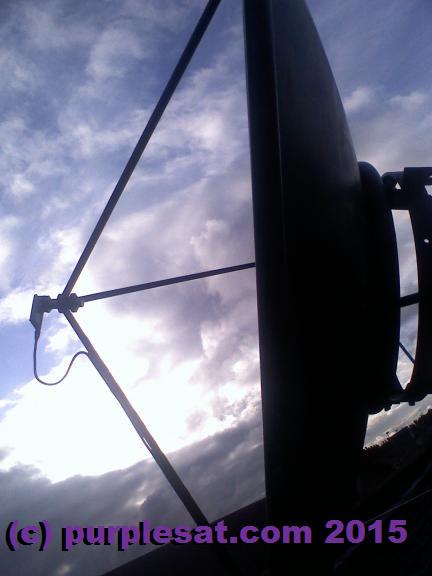 Sunset through a 1.8m Precision spun aluminium Prime Focus with C120 LNB .

This once fine dish was unfortunately quite badly damaged over the years with up to 10mm outage rim to rim & various dents & bumps across its' face as so many aluminium dishes can end up. The maximum outage we work to is zero to 0.5mm overall and an absolute maximum of a 10th of the wavelength (about 2.3mm at upper KU band). Over that and the signal isn't going into the LNB- something else is (noise from other satellites & the surrounding area including city noise, factories, street lamps, telephone wires & ground noise).
A basic, but good quality 0.6dB MTI C120 LNB was fitted to a waveguide assembly without feed-horn & scala ring assembly & no focus adjustment. The gain having a feed horn and correct f/d ratio scala rings angle can seem slight- c.10-20% of noise/ signal ratio.. but important.
It had a polar mount in place designed for Channel Master Offset dishes that had been modified into a fixed mount by a slotted bar adjuster where the actuator would normally be. The design of the slotted adjusted was that it didn't allow fine adjustment that a screw adjuster would
and had the risk of slipping while being adjusted or coming lose and damaging the dish further or the engineer.. although the dish isn't heavy- it's ,mainly wind load issues on large alloy dishes. The fact that it was designed for an offset dish meant that the elevation adjuster was over it's maximum adjustment with just a few threads holding the whole dish's elevation- again not such a problem with an aluminium dish except for extreme wind loading conditions could have sheared the few remaining threads holding the dish. This was modified with an elevation extender bracket made on site and 20mm threaded bar and eye with long nut adjusters and the whole dish assembly & polar mount correctly aligned on the Clarke Belt to track all the satellites manually to easily move the dish to other satellites.


BIG DISH

INSTALLATIONS.

CHANNEL MASTER 2.4M
CUSTOM TWIN AXIS POLAR MOUNT
4 BAND
MOTORISED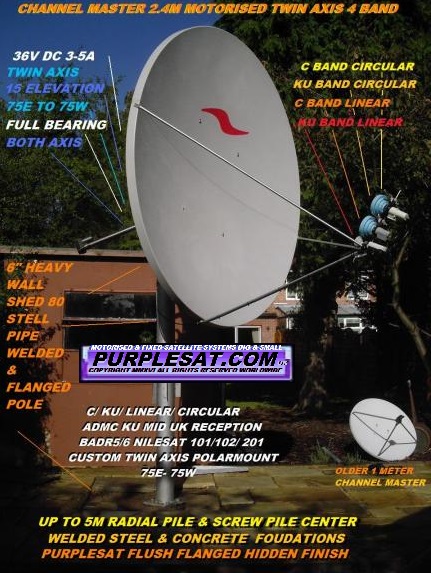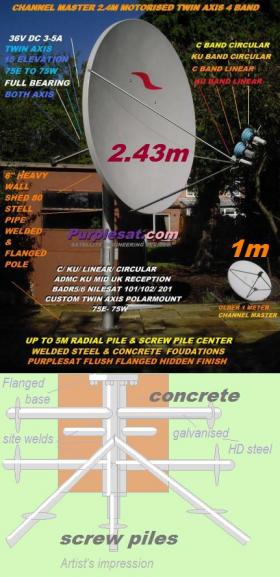 GROUNDS MOUNTED CHANNEL MASTER 2.4M TWIN AXIS 4 BAND 75E-75W
ABU DHABI -

ADMC SPORTS HD RECEPTION

ON BADR6 @ 26e & NILESAT 201 @ 7w (BOTH)


ONE OF THE BEST

TWIN AXIS / 4 BAND 2.4Ms

IN EUROPE!




BIG DISH

INSTALLATIONS.

CUSTOM TWIN AXIS 36v 3-5A POLAR MOUNT
4 BAND
MOTORISED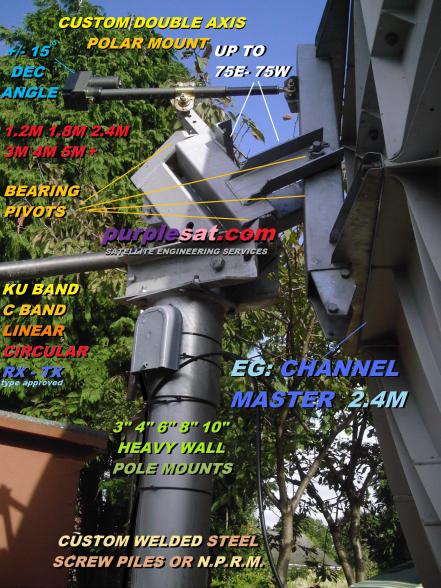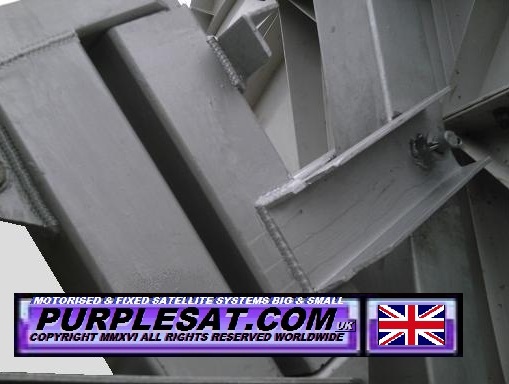 CUSTOM ENGINEERED ALL AXIS ALL BEARINGS TWIN AXIS 36V POLARMOUNT

ABU DHABI -

ADMC SPORTS HD RECEPTION

ON BADR6 @ 26e & NILESAT 201 @ 7w (BOTH)



BIG DISH

INSTALLATIONS.

4 BAND
MOTORISED

PURPLESAT - BCS SATELLITES CUSTOM MULTI FEED left &

BIG DISH

INSTALLATIONS.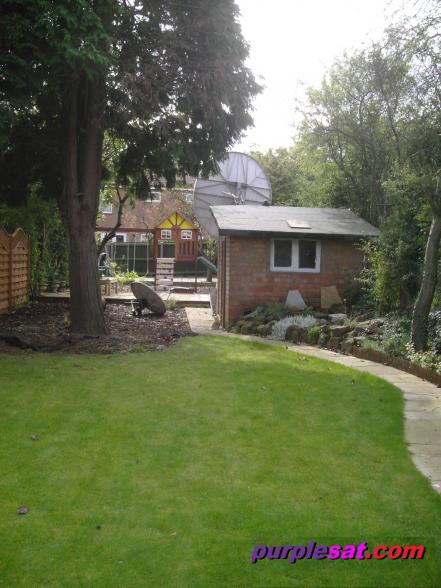 CHANNEL MASTER 2.4M PHOTO STRIPDOWN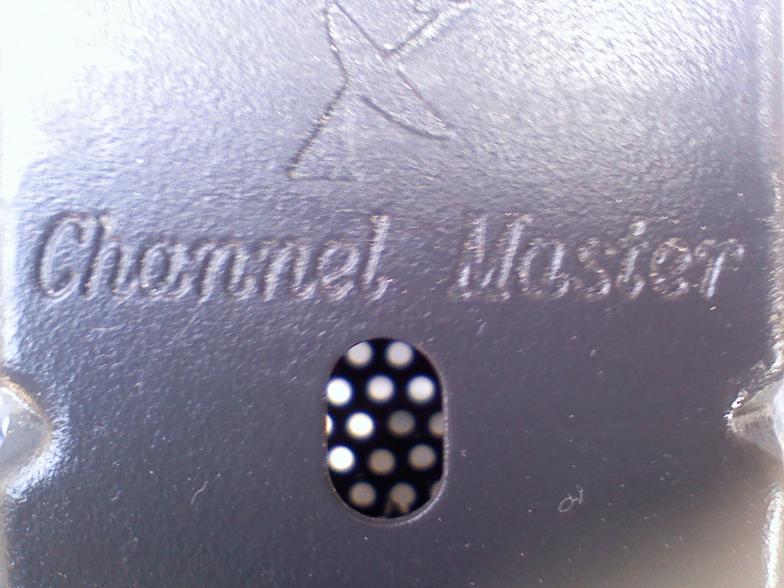 Channel Master Logo



More on purplesat.com's